basic Kimono lesson
You can learn how to wear Kimono for casual to semi-formal use.
8 lessons 90 min/per lesson, 5000JPY/per lesson, per person
You can take lessons at your place. *travel expenses for the teacher are required.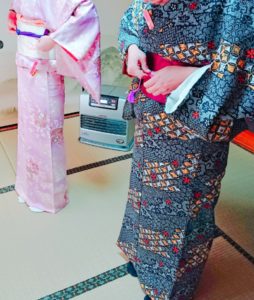 details of lessons
1st lesson : how to fold kimono / how to wear Juban, under kimono
2nd lesson : how to wear kimono
3rd lesson : Hanhaba-Obi, half wide casual sash
* You can now go out in kimono after taking 3rd lesson.
4th lesson : Nagoya-Obi sash 1 how to make Otaiko-musubi*
*Otaiko-musubi is a method for tying Obi sash, shaped like a square.
You can wear Otaiko-musubi at semi-formal occasion.
5th lesson : Nagoya-Obi sash 2 how to make Otaiko-musubi 2
6th lesson : Nagoya-Obi sash 3 how to tye Obiage and Obijime
7th and 8th lessons : brushup reviews
Yukata lesson
120min 6,000JPY
miracle Haneri sewing
120min 5.000JPY

How to sew Haneri, replacable collar, on Jyuban easily.
Haneri is a cloth put on Jyuban's collar.
It's replaceable because collar is the part which can easily get dirty.

It takes time to replace Haneri without knowing this miracle Haneri sewing method.
You can also learn how to coordinate Haneri.
Please feel free to ask about kimono lessons.
Please ask details for getting dressed in kimono by Miho at your place.
Check out for the blog written in both English and Japanese.
Hannari Kimono Life Chubu
info@mihokimono.com